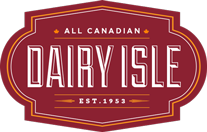 Put What We Do To Good use
Easy Recipes Made Awesome With Dairy Isle Products!
Discover the flavour difference Dairy Isle products make in all of your favourite recipes!
Do you have a recipe suggestion you want to share with us? We'd love to post it on our Facebook page.
Canada's Dairy Isle is like no other place. We take our time to make quality dairy products from the sweet, fresh milk collected every day on Prince Edward Island. Our family farms give us the ideal base for award-winning dairy products. We have a few recipes that we've tried and we are sure you will like. We like putting a little twist on a local recipe. We also love getting new recipes from our followers, so if you have a favorite that you want to share, please send it using the Contact Us button, and we'll try it out!
All
Appetizers
Breakfast
Butter
Cheese
Condensed Milk
Desserts
Dinner
Evaporated Milk
Lunch
Soups
Starters